Fidelity Canada Institutional develops solutions to serve the unique needs of Canadian institutional investors.
We offer active and risk-controlled disciplines that include Canadian, U.S., international and global equity, fixed income, asset allocation, alternative and custom solutions.
 
Fidelity by the numbers
Canadian institutional assets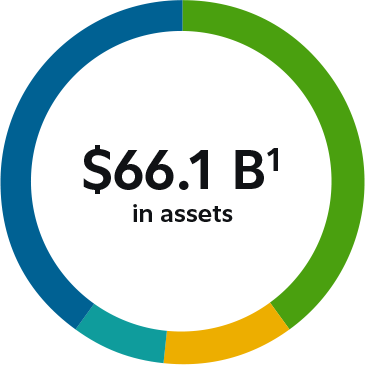 $4.7B
U.S., global, international equity
Canadian institutional clients
Since 1987, Canadian institutional investors have entrusted their assets to our expertise and investment capabilities. Our clients include defined benefit plans, defined contribution and multi-employer pension plans, endowments and foundations, unions and First Nations trusts.

As of December 31, 2022.
1 Canadian assets are represented in CAD. Canadian assets under administration include $48.4B in institutional assets within defined benefit pension plans, endowments, foundations, corporate, funds of funds, sub-advised and defined contribution plans (DCIO).
Global institutional assets 



2 As at December 31, 2022 in Canadian dollars.
Think Fidelity Canada Institutional
We work with you to translate your needs into tailored solutions




Dedicated expertise and investment capabilities across a broad range of asset classes
Equity
Canadian, U.S., global, international, emerging markets, small cap, low volatility, thematic

Our asset management heritage
Founded in Boston, Massachusetts
First mutual fund offered
Started managing large pension plan assets
First international office established (Tokyo)
Started managing fixed income strategies
Started managing asset allocation strategies
Canadian office established
Dedicated Canadian investment team created
Investment teams established in Toronto and Montreal
Abigail Johnson named Chairman and CEO of Fidelity
Assets managed exceeded
4.2T1
1 Fidelity's assets under management as of December 31, 2022 in U.S. dollars.