Sentiment moderates amid rising costs and slower growth
Fidelity International's latest monthly analyst survey reveals that the outlook for management sentiment is moderating as the pace of economic recovery slows and costs continue to rise.
Written by Terry Raven, Director, European Equities, and Gita Bal, Global Head of Research, Fixed Income
Originally published in August, 2021
The outlook for management sentiment and leading indicators is stabilizing following a period of rapid economic recovery. Our latest monthly survey of Fidelity International analysts shows that expectations for global management sentiment over the next six months have started to moderate, while a growing proportion of analysts expect costs to rise throughout the course of the year. 
Sentiment moderates amid rising costs and slower growth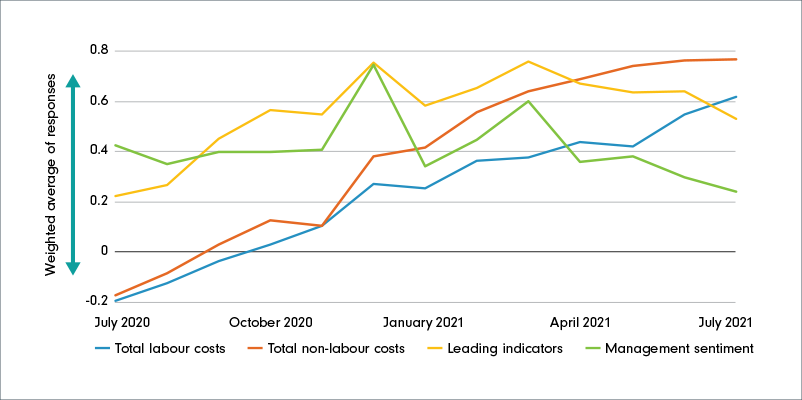 Fidelity International, July 2021
Our monthly survey asks analysts about their outlook for management sentiment and forward-looking leading indicators of activity over the next six months. When we first started asking the question on a monthly basis, last July, companies were emerging from a period of unprecedented turbulence. This explains why the outlook for sentiment was at elevated levels last year and was always likely to fall as the pace of economic recovery started to slow. 
Analysts covering Chinese companies appear the most pessimistic, with almost a quarter expecting management sentiment to decline over the next six months. China was the first to enter the pandemic and the first to exit it, meaning that any moderation in sentiment is unsurprising. "The cycle is maturing," points out one analyst covering Chinese technology companies. "Unbridled optimism is evolving into a more a neutral outlook." 
Rising costs dampen sentiment. 
Rising costs are feeding into falling sentiment, with one analyst covering European financials reporting that the general outlook is "slightly weaker due to fears about inflation, peak growth and a resurgence in COVID-19 cases." 
Higher costs can affect management sentiment by depressing profit margins, although some companies are not as affected as others by rising prices. One analyst covering European industrials reports that most of the firms in her sector "have the capability to absorb most (if not all) negative wage and logistics inflation through internal cost cutting."
But profits have suffered in some sectors. One analyst covering European consumer staples firms reports that rising raw material prices created "a near-term headwind and a hit to profit margins in the first half of the year."
North American companies are particularly exposed to rising costs, and just under 80% expect non-labour costs to increase over the next six months. Delays at American ports partly explain this, with one analyst covering tech companies in the region reporting that the "supply chain challenge has become more serious and hasn't lifted yet."
While inflationary pressures can impact margins, the higher demand driving up prices in some cases can also act as a counterbalance. "Commodity cost inflation pressure has been partly offset by strong demand and sales," reports an analyst covering Chinese utilities.
The pace of recovery is slowing.
Inflationary pressures are not the only reason that management sentiment has moderated; many companies are also concerned about slower growth. "Rising costs contribute a bit to my view on weaker leading indicators, but are probably only part of the wider story," reports one analyst covering European metal and mining firms. "Another element that is likely even more prominent is fears over China and the strength of demand there."
Despite this – and a rise in cases due to the delta variant – we expect that fiscal stimulus and continued loose monetary conditions, plus a further rollout of vaccinations, will help keep conditions relatively benign, even if growth is not as quick as before.
Issued by Fidelity Investments Canada ULC ("FIC"). Unless otherwise stated, all views expressed are those of Fidelity International, which acts as a subadvisor in respect of certain FIC institutional investment products or mandates.
For Institutional Use Only
This document is for investment professionals only and should not be relied on by private investors.
This document is provided for information purposes only and is intended only for the person or entity to which it is sent. It must not be reproduced or circulated to any other party without the prior permission of Fidelity.
This document does not constitute a distribution, an offer or solicitation to engage the investment management services of Fidelity, or an offer to buy or sell or the solicitation of any offer to buy or sell any securities in any jurisdiction or country where such distribution or offer is not authorized or would be contrary to local laws or regulations. Fidelity makes no representations that the contents are appropriate for use in all locations or that the transactions or services discussed are available or appropriate for sale or use in all jurisdictions or countries or by all investors or counterparties.
This communication is not directed at and must not be acted on by persons inside the U.S. and is otherwise only directed at persons residing in jurisdictions where the relevant funds are authorized for distribution or where no such authorization is required. Fidelity is not authorized to manage or distribute investment funds or products in, or to provide investment management or advisory services to persons resident in, mainland China. All persons and entities accessing the information do so on their own initiative and are responsible for compliance with applicable local laws and regulations and should consult their professional advisors.
Reference in this document to specific securities should not be interpreted as a recommendation to buy or sell these securities but is included for the purposes of illustration only. Investors should also note that the views expressed may no longer be current and may have already been acted upon by Fidelity. The research and analysis used in this documentation is gathered by Fidelity for its use as an investment manager and may have already been acted upon for its own purposes. This material was created by Fidelity International.
Past performance is not a reliable indicator of future results.
This document may contain materials from third parties which are supplied by companies that are not affiliated with any Fidelity entity (third-party content). Fidelity has not been involved in the preparation, adoption or editing of such third-party materials and does not explicitly or implicitly endorse or approve such content.
Fidelity International refers to the group of companies which form the global investment management organization that provides products and services in designated jurisdictions outside of North America. Fidelity, Fidelity International, the Fidelity International logo and F symbol are trademarks of FIL Limited. Fidelity only offers information on products and services and does not provide investment advice based on individual circumstances.