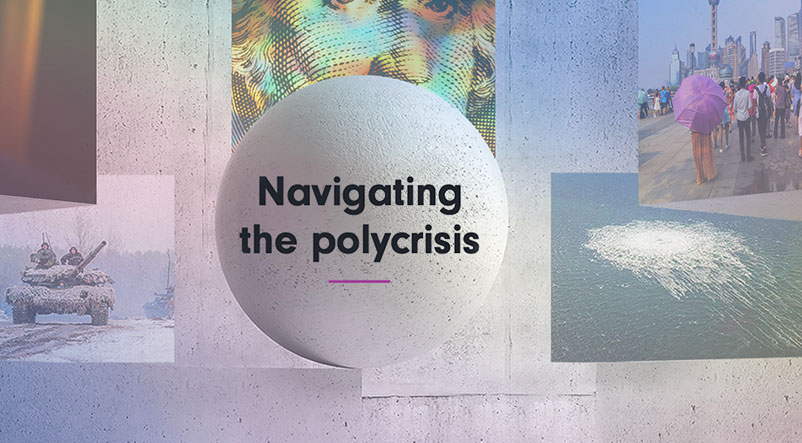 Outlook 2023 - Navigating the polycrisis
Navigating 2023 successfully requires the mindset that markets are forward-looking and sentiment will rise before the data shows the economy to be on an improving track.
Here we share a comprehensive guide to the year ahead for the global economy, multi asset, equities, fixed income, and real estate.
Highlights
Rates overshoot risks inflation bust: Inflation has dogged markets this year and is likely to remain high, bringing an end to the era of easy money and increasing the risk that overtightening by central banks will trigger a sharp recession, an "inflation bust".
Macro: From persistently high inflation and aggressive global policy tightening (led by the Federal Reserve) to the continued fallout of the Russia-Ukraine war and the energy crisis, weak consumer confidence and political disruptions, Fidelity International's base case remains a hard landing. Through the last quarter of 2022, Fidelity International's proprietary activity trackers have indicated a continuing slowdown, with a recession likely in the US and near certain in Europe and the UK.
Multi-asset: Global asset markets face no shortage of headwinds as we look ahead to 2023. As the Federal Reserve attempts to get a grip of soaring inflation in the US, the dollar's rapid appreciation has sucked capital away from other regions. Europe and the UK are in the middle of an energy crisis, with no clear endpoint for the devastating Russia-Ukraine war. Inflation remains high across most global regions, consumer confidence is at rock bottom, and China's economy is stuck in first gear. This multitude of challenges paints a complicated investment backdrop heading into next year, and we expect volatility to remain high for some time.
Equities: A high degree of volatility and uncertainty for global equities in 2023 is likely, as stubbornly high inflation and interest rate rises lead to a rough landing for large parts of the global economy. However, earnings expectations are diverging across different economies, allowing investors to capitalize on select opportunities.
Fixed income: Fixed income markets head into 2023 hopeful of a long-awaited shift to a new reality, yet the end of more than a decade of monetary largesse has brought with it substantial risks.
Real estate: Against a volatile economic backdrop, the real estate market's focus is shifting towards the ongoing cashflow available over the next 12 months. As the tightening cycle slows and rates stabilize, however, opportunities should begin to emerge for investors prepared to take them.