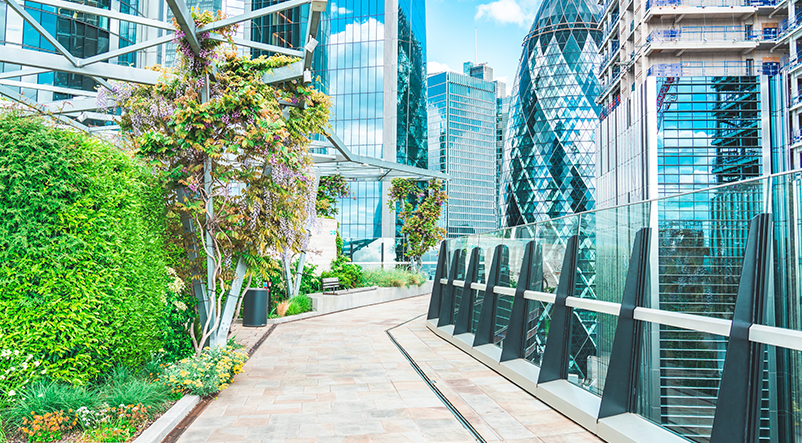 High impact: The pursuit of outcomes
At its essence, impact investing is about delivering outcomes for people and the planet alongside financial outcomes. Investors can have a positive effect across all asset classes, although the nature of influence will vary. Investors are increasingly grappling with the pace of positive change already underway and starting to appreciate the role that real estate can play in accelerating their impact investing ambitions.
Originally published July 2022
Written by Emilie Goodall, Impact Investing Consultant and Adrian Benedict, Head of Real Estate Solutions
Investing is no longer just about managing risk; it is increasingly about having a positive impact. This is partly driven by asset owners, who wish to deploy capital towards solving problems like climate change and biodiversity loss while also generating a financial return, and by regulators, particularly in Europe.
That said, in the absence of a globally accepted framework, investing for impact can mean different things to different people, and investors take a range of approaches depending on their organization's goals and methods of integration.
Influencing change
Fidelity International thinks of investing for impact in a broad and holistic way. The way in which it integrates sustainability into its bottom-up investment processes for traded securities aims to achieve an impact via the investment decisions it makes and the engagements that its ratings prompt or respond to.
This active investing and stewardship approach allows Fidelity International to have an influence on issuers across asset classes. Indeed, a range of strategies and policies are needed if all products aim to contribute positively to solving broader social or environmental problems alongside generating a financial return.
Influence is a subtle and nuanced part of the process of investing that means Fidelity International cannot always pinpoint its exact effect on company management. Nonetheless, Fidelity International can monitor where companies are making profound changes in the wake of conversations it's had with them. Fidelity International can also seek to influence change on a system-wide basis, across whole industries and portfolios. Here too, identifying the tangible impact can be tricky as system-wide change, such as in public policy, can take time and is often achieved via a set of incremental steps rather than an overnight transformation.
At a portfolio level, Fidelity International's influencing approach is informed by tools such as its sustainability ratings, its Principal Adverse Impact analysis, and its SDGs mapping. These direct allocation and engagement decisions are framed by Fidelity International's Climate Investing Policy and its deforestation commitment that are designed to push for change on a system-wide basis.
Fidelity International also considers the risks of its various approaches to influencing company behaviour in a way that is similar to how it analyzes financial risk/return profiles. Primarily, there is a risk that the changes it hopes to encourage do not come to pass. This brings with it reputational risk if Fidelity International engages intensively with a company on a particular issue throughout its investment and the company continues its harmful practices. There is also the risk of unintended consequences given the interconnectivity of ESG factors, which Fidelity International seeks to assess and mitigate via its deep research capabilities into individual companies and sectors.
However, these risks must be balanced against the risks of inaction, and the potential return from acting in terms of the societal and environmental benefits. For example, if Fidelity International has the chance of encouraging a company to improve its environmental status, or to influence a positive system change that influences the "rules of the game" for a wider group of companies, then even if its original targets for change are not quite met Fidelity International may still have had a meaningful positive impact.
Fidelity International's influencing framework is at a nascent stage, and it is looking to expand its stock of influencing tools and to draw stronger threads between possible actions that are mutually supportive across the levels of influence. Importantly, the development of this broader framework is happening alongside and complementing the growth of impact investing in the more narrow and traditional sense within private assets, both at Fidelity International and across the asset management industry.
Spotlight on real estate
More than any other asset class, real estate is perhaps the most tangible ("bricks and mortar") in terms of its potential for impact. When it comes to climate change, for example, not only is the built environment one of the biggest sources of emissions, accounting for around 40% of carbon emissions globally and up to 60% to 70% in cities, but the sector also offers some of the most tangible opportunities to cut those emissions.
While investors can buy new assets built to higher environmental standards, the biggest scope for achieving impact lies in the buildings that exist today, most of which are expected to still be around by 2050. Refurbishing and retrofitting these buildings can both reduce the carbon footprint of the built environment and improve the well-being of those who use them.
While any sort of building work has financial and environmental costs, retrofitting older assets cuts a significant portion of the upfront embodied carbon (the emissions created from a building's construction) which is irreversible. Improving energy efficiency, using more sustainable materials, and sourcing cleaner forms of energy can also cut existing emissions and have a measurable, verifiable, and additive impact. Not only can Fidelity International ensure that renovated buildings adhere to the strongest performance standards, such as insisting upon Energy Performance Certificate (EPC) ratings of "A" or "B" and Building Research Establishment Environmental Assessment Method (BREEAM) ratings of "Excellent," but Fidelity International can also seek to improve how the building is utilised in the long term, by targeting 100% green leases for sustainable use and using a tenant selection process that includes sustainability scoring of the potential lessees.
As with influencing companies more generally, however, impact investing in real estate needs to be a collaborative effort, with landlords and occupiers working in partnership – perhaps through green leases or less formally – to achieve the desired outcomes.
Issued by Fidelity Investments Canada ULC ("FIC"). Unless otherwise stated, all views expressed are those of Fidelity International, which acts as a subadvisor in respect of certain FIC institutional investment products or mandates.
This document is for investment professionals only and should not be relied on by private investors.
This document is provided for information purposes only and is intended only for the person or entity to which it is sent. It must not be reproduced or circulated to any other party without the prior permission of Fidelity.
This document does not constitute a distribution, an offer or solicitation to engage the investment management services of Fidelity, or an offer to buy or sell or the solicitation of any offer to buy or sell any securities in any jurisdiction or country where such distribution or offer is not authorized or would be contrary to local laws or regulations. Fidelity makes no representations that the contents are appropriate for use in all locations or that the transactions or services discussed are available or appropriate for sale or use in all jurisdictions or countries or by all investors or counterparties.
This communication is not directed at and must not be acted on by persons inside the U.S. and is otherwise only directed at persons residing in jurisdictions where the relevant funds are authorized for distribution or where no such authorization is required. Fidelity is not authorized to manage or distribute investment funds or products in, or to provide investment management or advisory services to persons resident in, mainland China. All persons and entities accessing the information do so on their own initiative and are responsible for compliance with applicable local laws and regulations and should consult their professional advisors.
Reference in this document to specific securities should not be interpreted as a recommendation to buy or sell these securities but is included for the purposes of illustration only. Investors should also note that the views expressed may no longer be current and may have already been acted upon by Fidelity. The research and analysis used in this documentation is gathered by Fidelity for its use as an investment manager and may have already been acted upon for its own purposes. This material was created by Fidelity International.
This article has been provided by Fidelity Investments Canada ULC (Fidelity) and is for information purposes only. It comprises, among other things, examples of sustainable investing activities across Fidelity and FIL Limited (Fidelity International) only, current as of June 30, 2022. The article may refer to ESG considerations that Fidelity and Fidelity International may take into account as part of their research or investment process, and is not necessarily reflective of the approach of any other Fidelity Investments company or sub-advisor, such as Fidelity Management & Research Company LLC, FIAM LLC, Geode Capital Management, LLC, and State Street Global Advisors Ltd., to ESG research, stewardship and sustainable investing, either specifically or generally.
Past performance is not a reliable indicator of future results.
This document may contain materials from third parties which are supplied by companies that are not affiliated with any Fidelity entity (third-party content). Fidelity has not been involved in the preparation, adoption or editing of such third-party materials and does not explicitly or implicitly endorse or approve such content.
Fidelity International refers to the group of companies which form the global investment management organization that provides products and services in designated jurisdictions outside of North America. Fidelity, Fidelity International, the Fidelity International logo and F symbol are trademarks of FIL Limited. Fidelity only offers information on products and services and does not provide investment advice based on individual circumstances.
©2022 Fidelity Investments Canada ULC. All rights reserved.