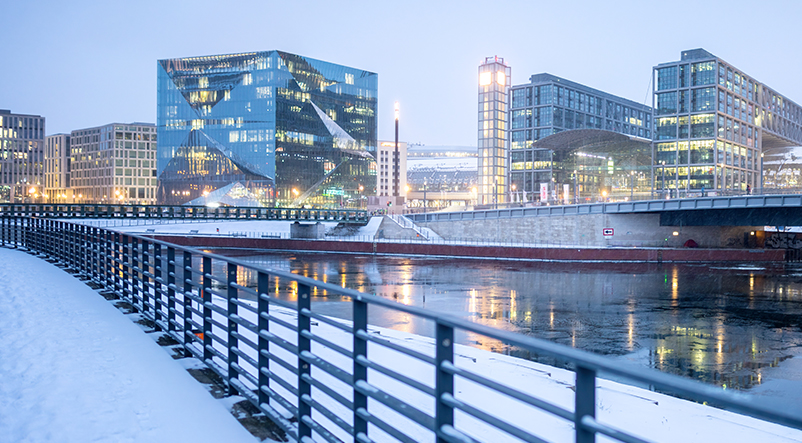 As the energy crisis bites, occupiers see value in green buildings
With the European energy crisis set to deepen this winter, newer, greener buildings with smaller energy footprints are becoming more attractive to occupiers as they become relatively more affordable on an overall cost-of-occupancy basis.
Originally published in September 2022
Written by Adrian Benedict, Head of Real Estate Solutions, Cian O'Sullivan, Analyst, and Nina Flitman, Senior Writer
With rising gas and electricity prices now rarely out of the headlines, businesses everywhere are increasingly focused on how to reduce the amount of energy they are using to contain costs, and the real estate choices they make are becoming ever more important. The chart above illustrates how, despite generally commanding higher rents, newer "green" offices can actually be the cheaper option than 20-year-old buildings on an overall cost-of-occupancy basis once the savings to be made on energy bills are factored in. 
This finding is based on an analysis comparing the office occupancy costs of green structures (assumed to be rated BREEAM Very Good and with an EPC score of B) versus unrenovated 20-year-old buildings in various regions around the U.K. It takes actual average costs in 2021 from real estate agency Lambert, Smith, and Hampton as a baseline,1 and compares them with projected figures for 2023 that include a 400% increase in energy prices (an illustrative figure that assumes a scenario where no price cap is put in place), a 10% increase in other costs (roughly in line with inflation) and no increase in rental rate. 
Comparing the costs of newer, green offices and 20-year-old, less sustainable buildings in two big U.K. markets, the data concludes that, in London next year, occupiers of green buildings can expect to spend 6.6% of their total occupancy costs on energy, compared to the 14.9% spent on energy by those in older buildings. 
In Manchester, the amount saved on energy bills by 2023 could actually mean it becomes slightly cheaper on an absolute basis to occupy a green office than a 20-year-old building, even though the rent for a new building – the most significant component of all costs – will be higher. The study projects that occupiers of older Manchester offices are likely to pay total building costs of £96.266 ($107.74) per square foot (psf) in 2023 (of which £27.12 psf is the net effective rent and £24.10 psf is energy costs), while renters of green buildings will only pay a total of £95.186 psf (of which £33.69 psf is rent but only £13.45 psf is energy costs). 
These figures do not illustrate the most extreme savings potentially available on energy costs. 
Finding offices with a smaller carbon footprint is becoming increasingly important to all sorts of companies, from start-ups to blue chips. Not only can a green office help a company's progression toward net zero, it can improve its corporate image, and even help it retain staff. But it's increasingly clear that embracing sustainability is not only about being a good corporate citizen, but also about making real monetary savings. That includes future-proofing financial decisions against regulatory changes and energy price fluctuations. 
Issued by Fidelity Investments Canada ULC ("FIC"). Unless otherwise stated, all views expressed are those of Fidelity International, which acts as a subadvisor in respect of certain FIC institutional investment products or mandates.
For institutional use only.
This document is for investment professionals only and should not be relied on by private investors.
This document is provided for information purposes only and is intended only for the person or entity to which it is sent. It must not be reproduced or circulated to any other party without the prior permission of Fidelity.
This document does not constitute a distribution, an offer or solicitation to engage the investment management services of Fidelity, or an offer to buy or sell or the solicitation of any offer to buy or sell any securities in any jurisdiction or country where such distribution or offer is not authorized or would be contrary to local laws or regulations. Fidelity makes no representations that the contents are appropriate for use in all locations or that the transactions or services discussed are available or appropriate for sale or use in all jurisdictions or countries or by all investors or counterparties.
This communication is not directed at and must not be acted on by persons inside the U.S. and is otherwise only directed at persons residing in jurisdictions where the relevant funds are authorized for distribution or where no such authorization is required. Fidelity is not authorized to manage or distribute investment funds or products in, or to provide investment management or advisory services to persons resident in, mainland China. All persons and entities accessing the information do so on their own initiative and are responsible for compliance with applicable local laws and regulations and should consult their professional advisors.
Reference in this document to specific securities should not be interpreted as a recommendation to buy or sell these securities but is included for the purposes of illustration only. Investors should also note that the views expressed may no longer be current and may have already been acted upon by Fidelity. The research and analysis used in this documentation is gathered by Fidelity for its use as an investment manager and may have already been acted upon for its own purposes. This material was created by Fidelity International.
This article has been provided by Fidelity Investments Canada ULC (Fidelity) and is for information purposes only. It comprises, among other things, examples of sustainable investing activities across Fidelity and FIL Limited (Fidelity International) only, current as of September 29, 2022. The article may refer to ESG considerations that Fidelity and Fidelity International may take into account as part of their research or investment process, and is not necessarily reflective of the approach of any other Fidelity Investments company or sub-advisor, such as Fidelity Management & Research Company LLC, FIAM LLC, Geode Capital Management, LLC, and State Street Global Advisors Ltd., to ESG research, stewardship and sustainable investing, either specifically or generally.
Past performance is not a reliable indicator of future results.
This document may contain materials from third parties which are supplied by companies that are not affiliated with any Fidelity entity (third-party content). Fidelity has not been involved in the preparation, adoption or editing of such third-party materials and does not explicitly or implicitly endorse or approve such content.
Fidelity International refers to the group of companies which form the global investment management organization that provides products and services in designated jurisdictions outside of North America. Fidelity, Fidelity International, the Fidelity International logo and F symbol are trademarks of FIL Limited. Fidelity only offers information on products and services and does not provide investment advice based on individual circumstances.
©2022 Fidelity Investments Canada ULC. All rights reserved.
1Lambert Smith Hampton Total Office Cost Survey, 2021. https://www.lsh.co.uk/total-office-cost-survey.