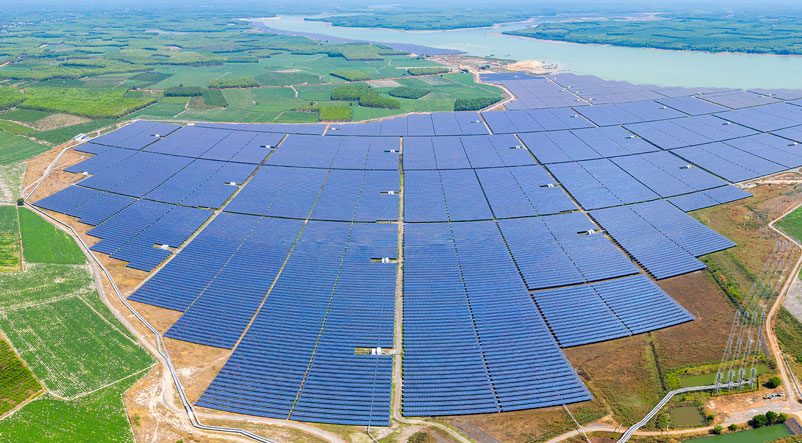 Asia could become a top destination for investors driving sustainable change
Asia has been among the top destinations for growth investors in recent decades. Now we believe it could become one of the top markets for investors driving sustainable change. With the right sort of research, engagement and understanding of local issues, sustainability-focused investors can work with Asian companies to improve their ESG credentials, thereby increasing their longer-term return potential.
Written by Paras Anand, Chief Investment Officer, Asia Pacific, and Flora Wang, Director, Sustainable Investing
Published July 29, 2021
Two types of ESG investing
Research has shown that robust sustainability practices and non-financial improvements of environmental and social factors tend to lead to higher business valuations over the long term.
Investors can seek to capitalize on this tendency in two ways: 1) by allocating capital to existing ESG leaders; and 2) by allocating capital to companies making a genuine effort to improve their sustainability and which are open to consistent levels of engagement. In the latter case, investors can often help drive the change – for example, by encouraging greater energy efficiency or better employee safety protocols – which should ultimately lead to more sustainable investment returns.
Asian companies offer scope for big ESG changes.
Many Asian companies fall into the second category of those firms seeking to improve their ESG profiles. Based on the distribution of current MSCI ESG ratings, Asia (excluding Japan) has a smaller proportion of companies regarded as ESG leaders than Europe does (although Japan outperforms the U.S. by this measure).

This creates opportunities, as Asia has a large universe of firms that could benefit from improving their ESG credentials. ESG awareness has been rising rapidly in Asia in recent years, as evidenced in Fidelity International's 2021 Fidelity Analyst Survey. Climate change and the COVID-19 pandemic have brought ESG considerations to the fore, even in markets where economic growth has been the main priority.
 

Across the board, environmental and social protection measures have increased, and more consumers are voting with their wallets and opting for sustainable products. People are seeking to work for firms that are more aligned with their own values, and investors are rewarding good ESG companies with cheaper financing.
ESG due diligence and effective engagement are key.
Finding the companies that really are making ESG improvements, however, is not easy. Greenwashing remains a risk globally, and investors need to be able to conduct thorough ESG due diligence that goes beyond a simplistic ranking based on company disclosures, especially as disclosure is not mandatory in many Asian markets, and can be patchy.
Fidelity International's proprietary ESG ratings help address these issues, because they are drawn from our regular interactions with investee companies, conversations with stakeholders (past employees, suppliers, etc.) during our due diligence process and the industry expertise of our 160+ global sector analysts. These factors allow our ratings to be forward-looking, closely tied to business fundamentals and often ahead of market perception.
Once investors have identified the right companies, they can engage with them regularly and offer advice and feedback to ensure that progress on ESG is achieved. Our experience shows that companies are more likely to adopt an ESG suggestion when it is made in the context of business development. This requires investors to have a deep understanding of the company's business, its history and future plans and the people behind it. For those investors who do, and who understand the local context or, better yet, have a local presence, Asia is poised to be a major market for decades to come in terms of driving sustainable development.
Issued by Fidelity Investments Canada ULC ("FIC"). Unless otherwise stated, all views expressed are those of Fidelity International, which acts as a subadvisor in respect of certain FIC institutional investment products or mandates.
For Institutional Use Only
This document is for investment professionals only and should not be relied on by private investors.
This document is provided for information purposes only and is intended only for the person or entity to which it is sent. It must not be reproduced or circulated to any other party without the prior permission of Fidelity.
This document does not constitute a distribution, an offer or solicitation to engage the investment management services of Fidelity, or an offer to buy or sell or the solicitation of any offer to buy or sell any securities in any jurisdiction or country where such distribution or offer is not authorized or would be contrary to local laws or regulations. Fidelity makes no representations that the contents are appropriate for use in all locations or that the transactions or services discussed are available or appropriate for sale or use in all jurisdictions or countries or by all investors or counterparties.
This communication is not directed at and must not be acted on by persons inside the U.S. and is otherwise only directed at persons residing in jurisdictions where the relevant funds are authorized for distribution or where no such authorization is required. Fidelity is not authorized to manage or distribute investment funds or products in, or to provide investment management or advisory services to persons resident in, mainland China. All persons and entities accessing the information do so on their own initiative and are responsible for compliance with applicable local laws and regulations and should consult their professional advisors.
Reference in this document to specific securities should not be interpreted as a recommendation to buy or sell these securities but is included for the purposes of illustration only. Investors should also note that the views expressed may no longer be current and may have already been acted upon by Fidelity. The research and analysis used in this documentation is gathered by Fidelity for its use as an investment manager and may have already been acted upon for its own purposes. This material was created by Fidelity International.
Past performance is not a reliable indicator of future results.
This document may contain materials from third parties which are supplied by companies that are not affiliated with any Fidelity entity (third-party content). Fidelity has not been involved in the preparation, adoption or editing of such third-party materials and does not explicitly or implicitly endorse or approve such content.
Fidelity International refers to the group of companies which form the global investment management organization that provides products and services in designated jurisdictions outside of North America. Fidelity, Fidelity International, the Fidelity International logo and F symbol are trademarks of FIL Limited. Fidelity only offers information on products and services and does not provide investment advice based on individual circumstances.