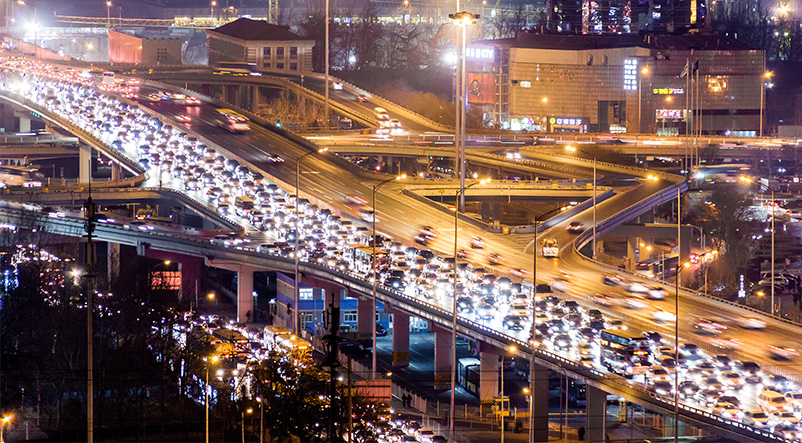 Analyst Survey 2022: Mind the roadblocks
A year on from the shot in the arm provided by the arrival of vaccines, overall, companies are entering 2022 in a position of improved financial strength and still-positive management sentiment, according to the 156 Fidelity International analysts surveyed about coming trends. However, pandemic fallout, market weakness and a spaghetti junction of other challenges will test their resilience in the coming months.
Originally published in February 2022
On the plus side, the survey (which was carried out in December 2021) indicates that leverage will continue to fall, alongside overall debt and defaults, as the recovery continues. Longer term, our analysts believe firms will seek to bolster their resilience by investing in new technologies and shortening supply chains. 
Such defences will be needed for the challenges ahead, including the higher funding costs our analysts expect as central banks pursue a course of financial tightening. Companies also face a potentially shorter business cycle, increased inflationary pressures, having to make the trade-offs needed to achieve net zero, and risks from a more volatile geopolitical outlook. 
Vaccines boost management confidence  
With vaccine programmes now in full swing, many managers see a path out of pandemic-related uncertainty in 2022, say Fidelity analysts. Globally, 54 per cent of survey respondents report that company managers are moderately or significantly more confident about making investments over the next 12 months, with only 9 per cent saying confidence has fallen. This is less bullish than the annual survey reading last year when vaccine optimism was at its height, but is consistent with further recovery from Covid-19 over the medium term, albeit with some risks to growth and shorter-term sentiment.
Optimism is highest in North America, with 63 per cent of analysts reporting increased confidence, while Asia Pacific (ex-China and Japan) and Europe follow closely with 62 per cent and 61 per cent respectively. "Higher visibility on the Covid vaccine rollout and broad strength in commodity prices should improve confidence to invest over the next 12 months compared to the last 12 months," reports a North America analyst.
Among sectors, management teams in industrials, tech, financials, and consumer discretionary companies are the most confident about investing in their businesses. A Europe fixed income consumer discretionary analyst says: "After pandemic closures in 2021 and continued variant uncertainty, management will be much more comfortable investing in 2022, certainly in the second half of 2022."
Chart 1: Management teams are confident about investing in their businesses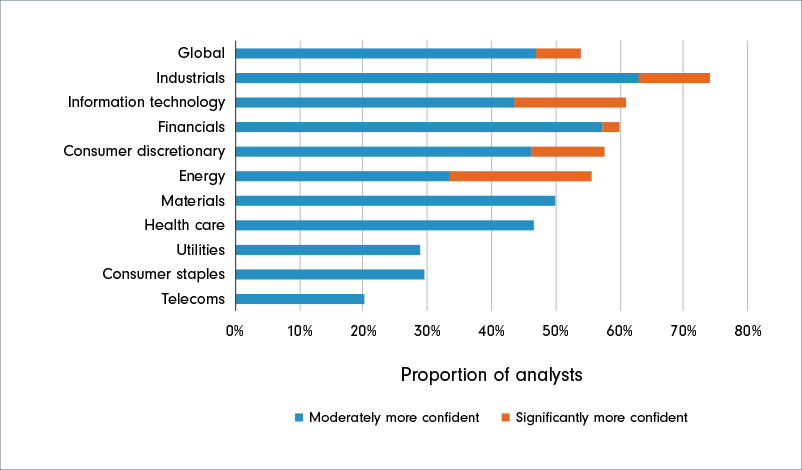 "How would you describe the confidence level of your companies' management teams to invest in their businesses over the next 12 months compared to the last 12 months?" Source: Fidelity International Analyst Survey 2022
Policy pivot could lead to higher funding costs
However, as the severity of the pandemic starts to recede, so will the policy measures designed to keep the economy afloat. Some 67 per cent of analysts globally expect pricing pressures to be higher in 2022 than 2021, and central banks will be forced to respond to rising inflation.
For companies, this policy pivot may mean higher bills to service debt, and, as a result, more analysts now expect funding costs to rise than to fall. This means that, while the majority expects funding costs to stay the same, the weighted net responses of analysts show a rise in expected funding costs for the first time since 2019.
This is particularly marked in the telecoms sector, where 60 per cent of analysts anticipate funding costs will rise. Consumer discretionary analysts report the biggest shift in expectations (in terms of weighted net responses), from decreasing costs last year to rising costs this year. A North America discretionary retail analyst says: "Companies got very cheap financing away in 2021 and with the Fed looking to raise rates, funding will become more expensive generally in 2022."
Chart 2: Funding costs will rise for many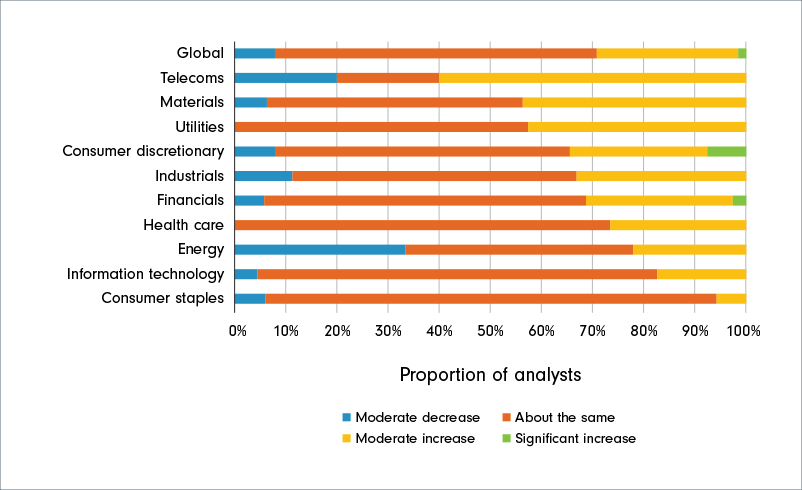 "How, if at all, do you expect funding costs for your companies to change in the next 12 months compared to the last 12 months, based on credit quality?" Note: There were no responses for "significant decrease". Source: Fidelity International Analyst Survey 2022
Fortunately, many companies have increased their balance sheet resilience. Default rates are expected to fall, with one in five analysts expecting fewer defaults globally this year, compared with 7 per cent that anticipate an increase. The energy sector, in particular, looks increasingly less exposed. It is an outlier on funding costs, with a third of analysts expecting these to fall again this year. 

One analyst attributes this to an expectation of "rapid deleveraging as companies prioritise cash flow over growth." Furthermore, the credit quality of energy companies is expected to improve this year compared to last, especially within the subsector of small to mid-cap exploration and production firms. Longer term, however, these firms still face the challenges of overhauling their business models to meet net zero ambitions and of dealing with price fluctuations as investment in longer-term projects declines.
It is also worth noting that while funding costs are generally expected to be higher in 2022, they are coming from a low base. A North America consumer staples analyst writes: "Even if rates rise +100bps in the US 10Y Treasury market from today's level, the after-tax cost of debt for most large investment grade issuers is extremely low."

The business cycle spins faster

Both companies and policymakers were forced to react quickly to Covid-19, and the disruption it brought to the global economy. This volatility is expected to feed into the business cycle, accelerating firms' progress from the early and middle stages to the mature stage. 
So, while the majority of analysts report that their companies are currently in expansion mode, the proportion expecting their companies to be in a slowdown doubles from 8 per cent to 17 per cent when asked about what stage of the cycle they expect firms to be in after 12 months. Similarly, 17 per cent of responses put companies at the initial expansion phase now, compared with only 7 per cent in a year's time.
Chart 3: Most firms in expansion more within a year, but some face a slowdow
Source: Fidelity International Analyst Survey 2022
Geopolitical factors could have a negative impact

The political cycle is also picking up speed. France and Brazil will have national elections this year, the US faces midterms and relations between the West and Russia and China may deteriorate.
While the direct outcomes are hard to predict, just over a third of analysts globally, and more than half of China analysts, expect geopolitical factors to have a negative impact on their companies. 
"Simply put, heightened uncertainty means companies delay plans and strategic investments," a China tech analyst writes. "Some of my companies are starting to shift more capex outside of greater China to make sure they have diversified supply chains."
Chart 4: Volatile geopolitics start to weigh on investment optimism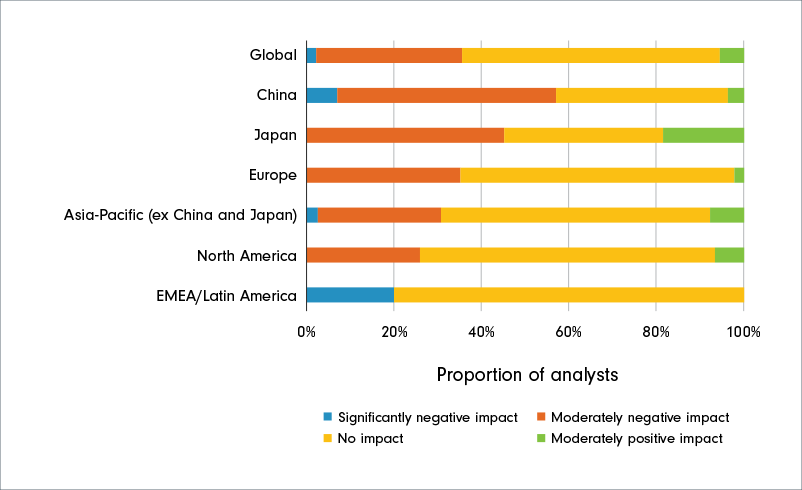 "To what extent is the geopolitical backdrop having an impact on the strategic investment plans (capex and M&A) of the companies that you cover?" Note: There were no responses for "significantly positive impact". Source: Fidelity International Analyst Survey 2022
In Europe, some analysts raised concerns about the impact of worsening relations with Russia, with one consumer staples analyst reporting that "companies are likely to become more cautious about deploying capital in Russia." 

Meanwhile the election cycle in Brazil means that the "cost of capital for companies goes through the roof, which makes it a lot harder for them to raise money and invest," according to an industrials analyst. 
Investing for longer-term resilience
Having experienced disrupted supply chains and rising costs, companies are strengthening their defences against future shocks. Two-thirds of analysts say they expect companies to seek to increase their resilience by investing in new technology. 
Strengthening balance sheets - the top answer for EMEA/LatAm - and shortening supply chains (i.e. bringing them closer to source or running with a higher degree of inventory) were the next most popular measures, with the latter particularly important for consumer companies.
Chart 5: Tech will bolster resilience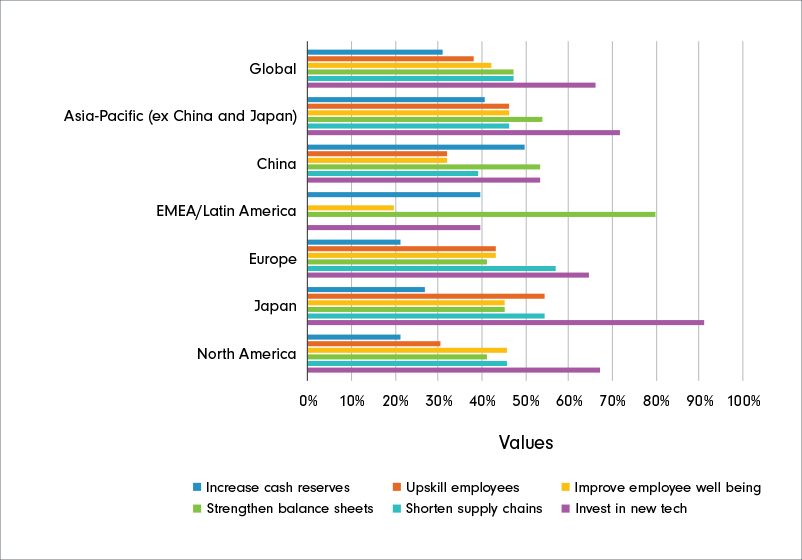 Source: Fidelity International Analyst Survey 2022
Conclusion
The companies that have so far weathered pandemic disruption will face the year with improved balance sheets and still optimistic managers, according to this year's survey. But they will be tested by more acute cost pressures than they have been used to, driven by supply and labour shortages, and a potentially destabilising mix of macro and geopolitical risks. If business as usual ever existed, we may have to wait a while longer before it reappears.
Issued by Fidelity Investments Canada ULC ("FIC"). Unless otherwise stated, all views expressed are those of Fidelity International, which acts as a subadvisor in respect of certain FIC institutional investment products or mandates.
For institutional use only
This document is for investment professionals only and should not be relied on by private investors.
This document is provided for information purposes only and is intended only for the person or entity to which it is sent. It must not be reproduced or circulated to any other party without the prior permission of Fidelity.
This document does not constitute a distribution, an offer or solicitation to engage the investment management services of Fidelity, or an offer to buy or sell or the solicitation of any offer to buy or sell any securities in any jurisdiction or country where such distribution or offer is not authorized or would be contrary to local laws or regulations. Fidelity makes no representations that the contents are appropriate for use in all locations or that the transactions or services discussed are available or appropriate for sale or use in all jurisdictions or countries or by all investors or counterparties.
This communication is not directed at and must not be acted on by persons inside the U.S. and is otherwise only directed at persons residing in jurisdictions where the relevant funds are authorized for distribution or where no such authorization is required. Fidelity is not authorized to manage or distribute investment funds or products in, or to provide investment management or advisory services to persons resident in, mainland China. All persons and entities accessing the information do so on their own initiative and are responsible for compliance with applicable local laws and regulations and should consult their professional advisors.
Reference in this document to specific securities should not be interpreted as a recommendation to buy or sell these securities but is included for the purposes of illustration only. Investors should also note that the views expressed may no longer be current and may have already been acted upon by Fidelity. The research and analysis used in this documentation is gathered by Fidelity for its use as an investment manager and may have already been acted upon for its own purposes. This material was created by Fidelity International.
Past performance is not a reliable indicator of future results.
This document may contain materials from third parties which are supplied by companies that are not affiliated with any Fidelity entity (third-party content). Fidelity has not been involved in the preparation, adoption or editing of such third-party materials and does not explicitly or implicitly endorse or approve such content.
Fidelity International refers to the group of companies which form the global investment management organization that provides products and services in designated jurisdictions outside of North America. Fidelity, Fidelity International, the Fidelity International logo and F symbol are trademarks of FIL Limited. Fidelity only offers information on products and services and does not provide investment advice based on individual circumstances.
©2022 Fidelity Investments Canada ULC. All rights reserved.